Brock Lesnar vs Jinder Mahal is what's best for business
The internet can trash this upcoming Survivor Series main event all it wants, but let me tell you something, brother. Champion vs. champion is best for business. The potential for what comes next is, to quote a must-see superstar, awesome.
As a wrestling community, we need people we can truly dislike. In an era with so many "cool bad guys" or situations like Roman Reigns, a true villain is rare. The Miz had it for a while, but he is just too entertaining to dislike. Baron Corbin is close to it, but we need more.
Enter Jinder Mahal.
Mahal has to be the most hated champion since Reigns last held the title but has none of the affection from children that Roman holds. Of course, it is a stretch to compare Mahal to Bret Hart, but he has the same opportunity with Indian fans that Hart held in Canada during the heat of his heel run.
Anyway, onto the match where almost every fan in the building is on Brock Lesnar's side – the way it should be. The best thing for the WWE World Heavyweight Championship is to continue to put it in situations where Mahal is hated. Fans need to want and crave for it to come off of him before it happens.
Every time somebody assumes Mahal's tenure ends or says he is not good enough or calls him a paper champion, what happens? Mahal stuns Randy Orton and becomes the champion. Mahal survives Orton twice by hook or crook. Mahal, infuriatingly, ruins Nakamura's Summerslam 1-2-3.  All of those wins pale in comparison to the shock waves that stem from a conquered beast incarnate.
If you are still down on this match after Paul Heyman's vociferous verbal attacks on Mahal on Monday night, then I have two words for you…
No matter which way this match goes, the fans win. Worst case scenario, fans get a special attraction that is Lesnar's ultimate destruction. Lesnar's long-term future is unclear, so any time he destroys someone on pay per view is a victory. In this storyline, Lesnar does not just take Mahal to Suplex City but both Singh Brothers and whatever other distractions the Modern Day Maharaja inevitably has in store.
Imagine giving the fans Lesnar versions of THIS … and THIS.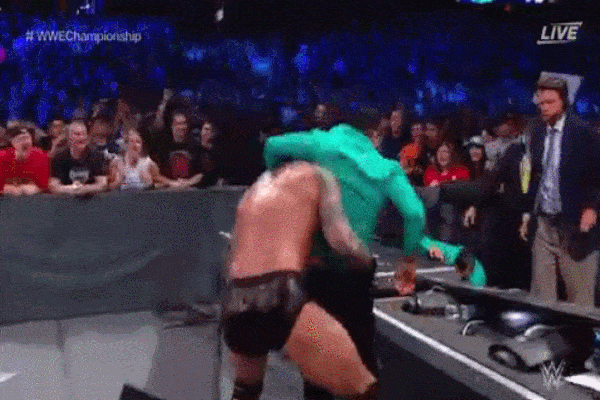 But what if this goes the other way?
What if Survivor Series ends as Mahal celebrates over Lesnar with one (perhaps two) championship titles in his hands? Eighty percent of the fan base already hates Mahal for the way he reigns above heroes like Nakamura and AJ Styles. Have him steal one from the Beast – the first clean loss for Lesnar since Goldberg shocked him in 86 seconds at Survivor Series 2016 – makes him the most hated man in the company. There is no better way to build Styles vs. Mahal than that. There is no money or interest in a rematch between Mahal and Lesnar if the latter wins at Survivor Series. Give Mahal a sneaky win, and we all want to see Lesnar crush him in the return.
What does Lesnar have to lose? Lesnar's loss to Goldberg did his reputation no damage, and neither did his losses to Triple H and John Cena upon his return to the company. Lesnar vs. Reigns or Wyatt or Balor or Strowman or whatever is every bit the same story.
Also, the rumor and innuendo on a special guest referee for the clash of heavyweight champions gives all the intrigue in the world. A special guest referee means ref bumps, more rag-dolling of the Singh Brothers and another out for Mahal to steal a victory.
Survivor Series is about shock value on the road to Wrestlemania, and this match gives us every opportunity.
Rey Mysterio should be a part of Best of the Super Juniors
In a few short months, one of the more exciting tournaments in all of professional wrestling will get underway. The months of June and July are consumed by New Japan's Best of the Super Juniors tournament. Featuring all of the high-flyers from the junior heavyweight division, this tournament steals the show each and every year.
This year, they could steal it even more with an addition to the pool. Current free agent Rey Mysterio being a part of the tournament would take it to another level.
It isn't like getting Mysterio to be a member of New Japan would be all that difficult. Mysterio was slated to face Jushin "Thunder" Liger at Strong Style Evolved back in March before suffering an arm injury that forced him to withdraw.
Mysterio still made an appearance at the event, getting in the ring after Liger's match with Mysterio's replacement, Will Ospreay. The current IWGP Junior Heavyweight Champion made a challenge to fight Mysterio in a New Japan ring, to which Mysterio didn't seem to object to.
Following an attack by Marty Scurll on Ospreay, Mysterio hoped into action, getting his mask ripped off by Scurll. In a matter of minutes, New Japan had setup three future feuds for Mysterio. One with Liger, who he was supposed to face in the first place. Another with Ospreay, who challenged Mysterio. Then a third with Scurll, for ripping Mysterio's mask off.
What better place for New Japan to be able to get the best of all three of those feuds than the Best of the Super Juniors tournament? Mysterio being a surprise addition to that tournament would create a massive buzz for casual New Japan fans, potentially getting them to sign up for NJPW World to see Mysterio in action.
It's well known that the last BoSJ was the last for Liger, but a potential match with Mysterio could certainly convince him to give it one last go. If not, New Japan can still get Mysterio against the rest of the division and give it another high profile name alongside the mainstays of the division.
Rumors have circulated about Mysterio's involvement with WWE's Greatest Royal Rumble event later on this month. While it's unclear if that would be a one-off or not, Mysterio has been using the free agency thing to his advantage.
Because he is able to bounce around from promotion to promotion, it has made him into a huge attraction these days. His tenure with Lucha Underground is a perfect example of that, taking an already popular product and getting more people interested in it because he's there.
That same theory can apply to the BoSJ. It's an event that has gained major appeal over the last three to five years because of the wrestlers that are involved.
Adding Rey Mysterio to that group, even if it's just for those two months, would be a huge coup for New Japan. They are trying to expand into the United States; why not add the face of lucha libre in the United States and Mexico for the past 10-plus years?