The internet can trash this upcoming Survivor Series main event all it wants, but let me tell you something, brother. Champion vs. champion is best for business. The potential for what comes next is, to quote a must-see superstar, awesome.
As a wrestling community, we need people we can truly dislike. In an era with so many "cool bad guys" or situations like Roman Reigns, a true villain is rare. The Miz had it for a while, but he is just too entertaining to dislike. Baron Corbin is close to it, but we need more.
Enter Jinder Mahal.
Mahal has to be the most hated champion since Reigns last held the title but has none of the affection from children that Roman holds. Of course, it is a stretch to compare Mahal to Bret Hart, but he has the same opportunity with Indian fans that Hart held in Canada during the heat of his heel run.
Anyway, onto the match where almost every fan in the building is on Brock Lesnar's side – the way it should be. The best thing for the WWE World Heavyweight Championship is to continue to put it in situations where Mahal is hated. Fans need to want and crave for it to come off of him before it happens.
Every time somebody assumes Mahal's tenure ends or says he is not good enough or calls him a paper champion, what happens? Mahal stuns Randy Orton and becomes the champion. Mahal survives Orton twice by hook or crook. Mahal, infuriatingly, ruins Nakamura's Summerslam 1-2-3.  All of those wins pale in comparison to the shock waves that stem from a conquered beast incarnate.
If you are still down on this match after Paul Heyman's vociferous verbal attacks on Mahal on Monday night, then I have two words for you…
No matter which way this match goes, the fans win. Worst case scenario, fans get a special attraction that is Lesnar's ultimate destruction. Lesnar's long-term future is unclear, so any time he destroys someone on pay per view is a victory. In this storyline, Lesnar does not just take Mahal to Suplex City but both Singh Brothers and whatever other distractions the Modern Day Maharaja inevitably has in store.
Imagine giving the fans Lesnar versions of THIS … and THIS.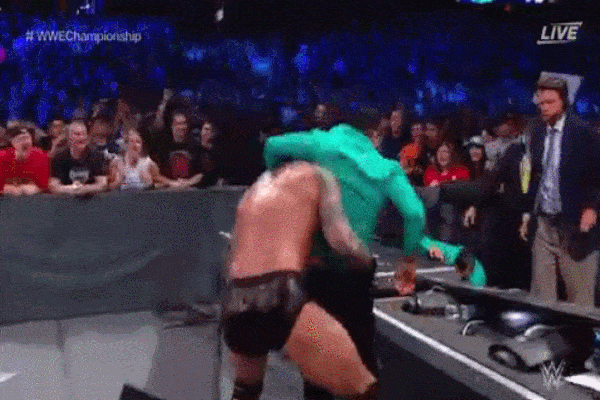 But what if this goes the other way?
What if Survivor Series ends as Mahal celebrates over Lesnar with one (perhaps two) championship titles in his hands? Eighty percent of the fan base already hates Mahal for the way he reigns above heroes like Nakamura and AJ Styles. Have him steal one from the Beast – the first clean loss for Lesnar since Goldberg shocked him in 86 seconds at Survivor Series 2016 – makes him the most hated man in the company. There is no better way to build Styles vs. Mahal than that. There is no money or interest in a rematch between Mahal and Lesnar if the latter wins at Survivor Series. Give Mahal a sneaky win, and we all want to see Lesnar crush him in the return.
What does Lesnar have to lose? Lesnar's loss to Goldberg did his reputation no damage, and neither did his losses to Triple H and John Cena upon his return to the company. Lesnar vs. Reigns or Wyatt or Balor or Strowman or whatever is every bit the same story.
Also, the rumor and innuendo on a special guest referee for the clash of heavyweight champions gives all the intrigue in the world. A special guest referee means ref bumps, more rag-dolling of the Singh Brothers and another out for Mahal to steal a victory.
Survivor Series is about shock value on the road to Wrestlemania, and this match gives us every opportunity.